---
We Use Natural & Organic Products Because
We Believe That Food In Its Purest State Is The
Best Tasting & Most Nutritious Food Available!
---
Why Buy Organic?
We use natural and organic products because we believe that food in its purest state — unadulterated by artificial additives, sweeteners, colorings, and preservatives — is the best tasting and most nutritious food available. When you buy organic you are supporting sustainable agricultural practices that do not put poisonous chemicals in our soil, water, air, or on our food. At Foxy Treats we are passionate about creating great tasting, wholesome treats and the pleasure of sharing them with others.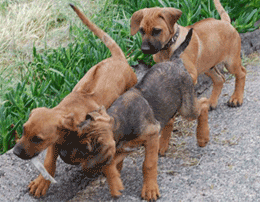 Why No Wheat, Corn or Soy?
Dogs, just like people, can have debilitating food allergies. Corn, wheat, and soy are known to cause severe skin irritations and may upset your pet's digestion. Wheat, corn, and soy are not only common allergens, they also hold little nutritional value for pets. Foxy Treats uses some of the most nutritious cereals: oat and barley. Oats are high in potassium, have useful amounts of calcium and are also a fair source of protein. They are moderately rich in B vitamins, B1, B2 and especially inositol. Barley provides copper and niacin. Small amounts of copper have shown to be effective in managing inflammation for arthritis sufferers. Niacin is a B vitamin that provides numerous protective actions against cardiovascular risk factors. Niacin may also help reduce platelet aggregation, the clumping together of platelets that can result in the formation of blood clots.
Every Order Is Special!
At Foxy Treats, every order is special. We are more than happy to meet the specific dietary requirements of pets and their owners. Please feel free to email customersupport@foxytreats.com to discuss your needs. We are here to help! Foxy Treats are safe and appropriate for cats, bunnies, and most birds. Contact us for more info.